Ruby Quartz Jacket Halogen Infrared Heating Lamp
220V 600W with length 350mm,
custom made voltage, sizes, according to customer requirements.


Used as high-power and high efficiency heat source for zone-heating and various industrial application with a special coating.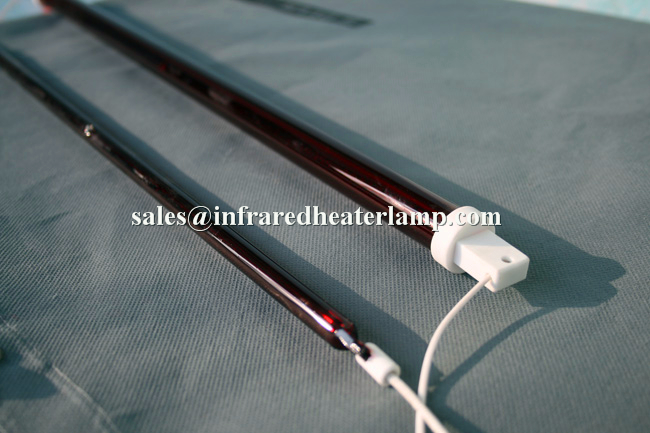 Benefits and Features:
1.Versatility of heat source:
Wide range of lamps lengths and power available.
2. Instant heat:
More than 90% emission within 1 second.
3. Clean:
No byproducts, no pollution.
4. Safe:
Quartz envelope, heat shock resistant.
5. Economical:
More than 85% of consumed energy transmitted
into infrared heat.
6.Fully dimmable:
Fully controllable accurately(0% to 100%)
7.Possibility to put people sensor:
On/Off switches do not affect life time of the lamps
8.Long life:
More than 5000 hours
9.Heat can be focused:
Same optical properties as light, can be directed by reflectors
10.Compact heater:
Compact heat sources, narrow diameter of lamps11.Far infrared heating:
Infrared wave is 5.6µm-10µm

Product Applications:
2. High temperature disinfection
3. Food baking, heating and heat preservation
4. Industrial production oven
5. High temperature curing for glue and printing ink
6. PET bottle blowing, laminating
8. Wood drying and preheating before painting
9. Plastic softening and synthesis, cable production
10. Beauty apparatus,, infrared physical therapy care
11. Infrared drying for shoes making machine
12. Infrared heating lamps for wave soldering, reflow soldering equipment

Packaging Details:

Packaging: 5 pieces in bubble then wooden box outside. or we can do package according to your design.
Shipping: By sea or by air when the weight is heavy, Usually fast deliver by DHL/FEDEX/ TNT/UPS

We produce the IR lamp according to PHILIPS standard.
If you can not find the lamp you need in our website, please contact me.
We can make the lamps according your design.
| | | | | | | |
| --- | --- | --- | --- | --- | --- | --- |
| Item | V | W | Base | MOL(mm) | Life(H) | Finish |
| 13169Z/98 | 120 | 500 | SK15 | 230 | 5000 | Clear/Relector/Golden |
| 13169X/98 | 120 | 500 | X | 241 | 5000 | Clear/Relector/Golden |
| 13195Z/98 | | 1000 | SK15 | 360 | 5000 | Clear/Relector/Golden |
| 13195X/98 | 235 | 1000 | X | 370 | 5000 | Clear/Relector/Golden |
| 13713Z/98 | 235 | 1000 | SK15 | 360 | 5000 | Clear/Relector/Golden |
| 13713X/98 | | 1000 | X | 370 | 5000 | Clear/Relector/Golden |
| 13561Z/00 | 144 | 1200 | SK15 | 225 | 5000 | Clear/Relector/Golden |
| 13568Z | 144 | 1600 | SK15 | 350 | 5000 | Clear/Relector/Golden |
| 13568Y | 144 | 1600 | Y | 225 | 5000 | Clear/Relector/Golden |
| 13168Z/98 | 235 | 2000 | SK15 | 370 | 5000 | Clear/Relector/Golden |
| 15021Z | 235 | 2000 | SK15 | 350 | 5000 | Clear/Relector/Golden |
| 13393Z | | 1300 | SK15 | 790 | 5000 | Clear/Relector/Golden |
| 14103Z/98 | 235 | 2000 | SK15 | 350 | 5000 | Clear/Relector/Golden |
| 13245X/98 | | 2000 | X | 508 | 5000 | Clear/Relector/Golden |
| 13230X/98 | 400 | 3000 | X | 800 | 5000 | Clear/Relector/Golden |
| 1600T3/7 | | 1600 | | 499 | 5000 | Clear/Relector/Golden |
| 2500T3/CL | | 2500 | | 731 | 5000 | Clear/Relector/Golden |
| 3200T/CL | | 3200 | | 1062 | 5000 | Clear/Relector/Golden |
| 14102Z | | 1000 | SK15 | 360 | 5000 | Clear/Relector/Golden |
| 13213Z/98 | | 2000 | SK15 | 360 | 5000 | Clear/Relector/Golden |
| 15008X | 235 | 1000 | X | 370 | 5000 | Clear/Relector/Golden |
| 14141X | 400 | 2000 | X | 370 | 5000 | Clear/Relector/Golden |
| 13402Z | 235 | 1000 | SK15 | 350 | 5000 | Clear/Relector/Golden |
| 13568Z | 144 | 1600 | SK15 | 350 | 5000 | Clear/Relector/Golden |
| 14135Z | 235 | 1600 | SK15 | 350 | 5000 | Clear/Relector/Golden |
| 13842Z | 235 | 700 | SK15 | 350 | 5000 | Clear/Relector/Golden |
| 14134Z | 235 | 1200 | SK15 | 350 | 5000 | Clear/Relector/Golden |