Half Gold Coated Halogen Infrared Heating Lamp
Gold Coated Halogen Infrared Heating Lamp for Bottle Blowing
240V 800W, 300mm length, Clear quartz tube, halogen infra red sk15 with gold reflector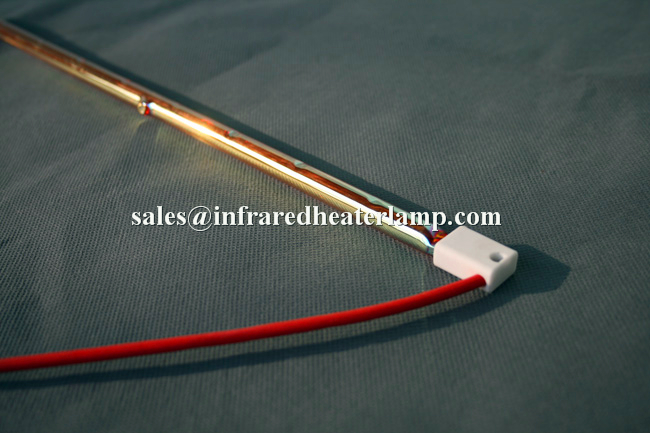 If you can not find the lamp you need in our website, please contact me.
We can make the lamps according your design.
13169X 13169X/98 13169X98 13842Z/98 13195X 13195X98 13195Y 13195Y/98 13230X/98
13713X 13713Z/98 13713X/98 13938R 13214Z/98 13168V 13168X 13245X 3200T3/CL
13245X/98 13765X 13765X/98 2500T3CL 2500T3 14107Z 14107Z/98 13230X 14158/99
Features:
1.Most of the spectrum is located near the near-infrared shortwave area.
2. High power output, the maximum load power line is more than 100 W/cm, plane maximum output power can reach 1000 kw/m2.
3. Efficient and durable gold reflector or ceramic reflector, the reflection efficiency is as high as 80-95%. Only heat the target direction can save large amount of energy.
4. Short heating time, especially suitable for rapid high temperature heating.


Product Applications:
2. High temperature disinfection
3. Food baking, heating and heat preservation
4. Industrial production oven
5. High temperature curing for glue and printing ink
6. PET bottle blowing, laminating
8. Wood drying and preheating before painting
9. Plastic softening and synthesis, cable production
10. Beauty apparatus,, infrared physical therapy care
11. Infrared drying for shoes making machine
12. Infrared heating lamps for wave soldering, reflow soldering equipment

Packaging Details:

Packaging: 5 pieces in bubble then wooden box outside. or we can do package according to your design.
Shipping: By sea or by air when the weight is heavy, Usually fast deliver by DHL/FEDEX/ TNT/UPS