Transparent Quartz Halogen Infrared Heating Lamp
1.Creating high-power
2.Creating high-efficiency heat source
3.Special coating

Used as high-power and high efficiency heat source for zone-heating and various industrial application with a special coating.

We produce the IR lamp according to PHILIPS standard.
If you can not find the lamp you need in our website, please contact me.
We can make the lamps according your design.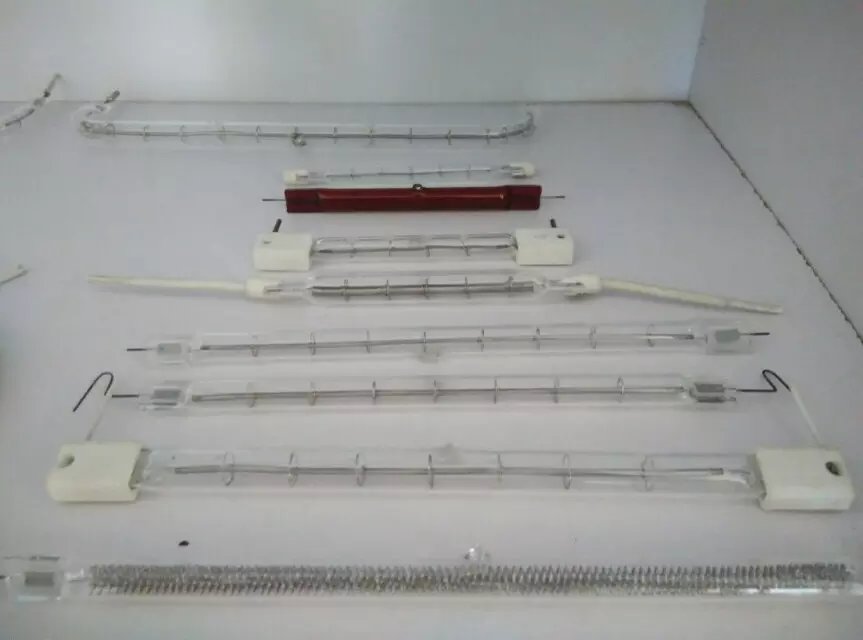 | | | | | | | |
| --- | --- | --- | --- | --- | --- | --- |
| Item | V | W | Base | MOL(mm) | Life(H) | Finish |
| 13169Z/98 | 120 | 500 | SK15 | 230 | 5000 | Clear/Relector/Golden |
| 13169X/98 | 120 | 500 | X | 241 | 5000 | Clear/Relector/Golden |
| 13195Z/98 | | 1000 | SK15 | 360 | 5000 | Clear/Relector/Golden |
| 13195X/98 | 235 | 1000 | X | 370 | 5000 | Clear/Relector/Golden |
| 13713Z/98 | 235 | 1000 | SK15 | 360 | 5000 | Clear/Relector/Golden |
| 13713X/98 | | 1000 | X | 370 | 5000 | Clear/Relector/Golden |
| 13561Z/00 | 144 | 1200 | SK15 | 225 | 5000 | Clear/Relector/Golden |
| 13568Z | 144 | 1600 | SK15 | 350 | 5000 | Clear/Relector/Golden |
| 13568Y | 144 | 1600 | Y | 225 | 5000 | Clear/Relector/Golden |
| 13168Z/98 | 235 | 2000 | SK15 | 370 | 5000 | Clear/Relector/Golden |
| 15021Z | 235 | 2000 | SK15 | 350 | 5000 | Clear/Relector/Golden |
| 13393Z | | 1300 | SK15 | 790 | 5000 | Clear/Relector/Golden |
| 14103Z/98 | 235 | 2000 | SK15 | 350 | 5000 | Clear/Relector/Golden |
| 13245X/98 | | 2000 | X | 508 | 5000 | Clear/Relector/Golden |
| 13230X/98 | 400 | 3000 | X | 800 | 5000 | Clear/Relector/Golden |
| 1600T3/7 | | 1600 | | 499 | 5000 | Clear/Relector/Golden |
| 2500T3/CL | | 2500 | | 731 | 5000 | Clear/Relector/Golden |
| 3200T/CL | | 3200 | | 1062 | 5000 | Clear/Relector/Golden |
| 14102Z | | 1000 | SK15 | 360 | 5000 | Clear/Relector/Golden |
| 13213Z/98 | | 2000 | SK15 | 360 | 5000 | Clear/Relector/Golden |
| 15008X | 235 | 1000 | X | 370 | 5000 | Clear/Relector/Golden |
| 14141X | 400 | 2000 | X | 370 | 5000 | Clear/Relector/Golden |
| 13402Z | 235 | 1000 | SK15 | 350 | 5000 | Clear/Relector/Golden |
| 13568Z | 144 | 1600 | SK15 | 350 | 5000 | Clear/Relector/Golden |
| 14135Z | 235 | 1600 | SK15 | 350 | 5000 | Clear/Relector/Golden |
| 13842Z | 235 | 700 | SK15 | 350 | 5000 | Clear/Relector/Golden |
| 14134Z | 235 | 1200 | SK15 | 350 | 5000 | Clear/Relector/Golden |
Product Applications:
2. High temperature disinfection
3. Food baking, heating and heat preservation
4. Industrial production oven
5. High temperature curing for glue and printing ink
6. PET bottle blowing, laminating
8. Wood drying and preheating before painting
9. Plastic softening and synthesis, cable production
10. Beauty apparatus,, infrared physical therapy care
11. Infrared drying for shoes making machine
12. Infrared heating lamps for wave soldering, reflow soldering equipment